.

THE HOI AN HOARD c1450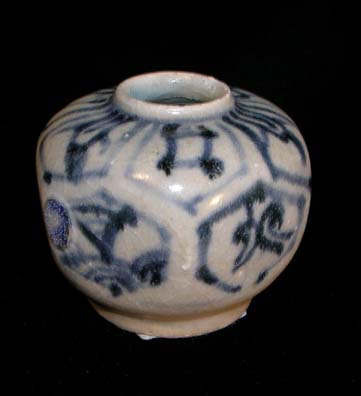 In the mid 15th C a freighting junk loaded with fine Vietnamese pottery sank in an area of the South China Sea called the "Dragon's Embrace." Around 1994 local fishermen began finding pottery in their nets. The Vietnamese Government determined that this was a significant find and engaged an archeological salvage company to locate the ship and retrieve the cargo. Many thousands of pieces of pottery were found – in fact, the greatest recovery of sunken treasure of all time. The best pieces are in the museums of Vietnam. The larger, fine pieces were auctioned in the world's major auction houses, in London, Paris, New York, San Francisco, etc. Smaller domestic pieces were consigned to lesser houses, including some in Canada, where I was lucky enough to secure a few pieces. The sale proceeds, amounting to tens of millions of dollars, have gone to build museums in Vietnam, to pay for the excavation and to fund further research.
See Hoi An Hoard web site: http://www.thingsasian.com/goto_article/article.1196.html
NOTE ON CONDITION: The following items are described as carefully as possible, with blemishes (if any) noted. In general, the condition of these pieces is excellent or very good. However, it must be kept in mind that they have been under 250 feet of seawater for about 550 years. That is a very long time! So, although the pieces are in good condition, they do not look like they just came from the Wedgewood factory! In fact, of course, they never did anyway.
AUTHENTICITY: Each piece has the official Hoi An sticker and registration number, a bar code strip with the same information, and each piece comes with its own certificate of authenticity issued by the auction house.