Gourds


Tobacco box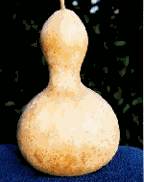 Bottle gourd


Kettle gourd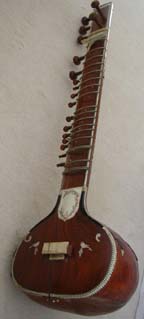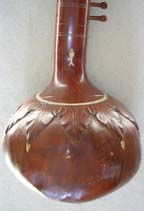 Indian sitar
What are they?
Ever popular, gourds come in an amazing array of forms that fit them for an equally amazing array of uses. Gourds are the fruits of a group of annual vines belonging to the Cucurbitaceae that yield such familiar market produce as zucchinis, cucumbers, melons, squashes, and pumpkins. And like pumpkins, gourds make people feel happy.
The gourds which interest us here are called hard-shelled gourds, pumpkins and their allies are soft-shelled. Although there are more than thirty varieties of hard-shelled gourds grown in North America, they all belong to a single species, Lagenaria siceraria. These include pear shaped martin house gourds – also known as kettle gourds, flat canteen gourds and tobacco boxes, long handled dippers, bulbous bottles, round apples and huge bushels.
The evolutionary history of Lagenaria hard shell gourds is not clear but there is strong evidence that they originated in Africa. Whatever their origin, they had spread to all parts of the tropical and temperate worlds in prehistoric times.
What Use Are Gourds?
According to authors Summit and Widess (The Complete Book of Gourd Craft, Lark Books, NY, 1999) musical instruments of remarkably diverse forms made from gourds have been identified in every recorded ancient culture. Commonest amongst them are rattles, using the inner seeds with or without additional seeds and pebbles, shells, etc. Gourds are used as resonators in many instruments including drums, the marimba-like belaphon , the gorgeous Indian sitar and many other stringed instruments. In addition they have also served as horns, flutes, whistles, ocarinas and other wind instruments of exotic form.
As containers gourds have been used for everything imaginable – and then some! Perhaps the earliest and still the commonest use has been for water, as buckets, bottles or dippers. Almost as frequently gourds have been used for storage of dried goods, such as seeds, nuts, flour etc. Gourds have featured prominently in the fermentation of joyous fluids. In many instances they have served not only as storage jars, but also as fermentation chambers. They are believed to have special properties in relation to the fermentation process, that it would nor work properly in some other container. The Massai of Africa have long used gourds for the blood and milk of cattle, often fermented together with honey. A pretty heady mixture, but not much to the western taste. Another use not to our taste has been the tradition in New Zealand of keeping bird and rat meat in gourds for special ceremonial occasions. Well, the birds could be OK, but the rats…? In many parts of the Pacific people are mildly addicted to the stimulant effect of chewing betel nut mixed with crushed lime. The lime is stored in a special small gourd, a very personal possession. In China small gourds have been used for centuries as cages for pet crickets. Among the Huichol of Mexico it is believed that spirits of the departed return to earth and reside in special gourd bowls. In welcome, the gourds are richly decorated inside with colored beads embedded in beeswax. And then, of course, there are the famous penis gourds or phallocrypts of Papua New Guinea and Irian Jaya. Apparently the government of Indonesia frowns on penis gourds and has attempted to prohibit their use. As a result, they have become the symbol of independence for the Free New Guinea movement. Phallocrypts serve a variety of uses beside sheltering a man's most private possession. They are used as purses to carry loose change, cigarettes and other necessities.
The Wonderful World of Antique Gourds
Gourds need special care if they are to last and that is why so few have survived from antiquity. Antique gourds range from about 50 to 300 years old, beyond that they are rare and priceless!